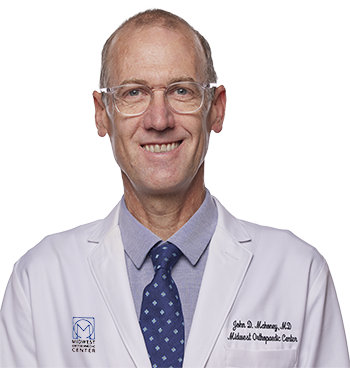 Medical School: Yale University School of Medicine
Residency: Orthopaedic Surgery, George Washington University
Fellowship: Hand and Microvascular Surgery, UCLA Medical Center
Certification: Board Certified in Orthopaedic Surgery
I'm proud to provide medical and surgical care for my patients. Whether laying the scalpel at the start of a surgery or counseling a patient through their recovery, I always feel fortunate to assist you in your time of need.
Meet Our Patients
In my opinion, Dr. Mahoney is an excellent doctor and surgeon, with that most rare attribute - a caring, pleasant bedside manner! My procedure went very well, the incision has healed nicely - I am very happy with Midwest and with Dr. Mahoney! Also, Tina at the front desk is absolutely the best! Always happy to see her smiling face and be greeted with a welcoming attitude! Thanks to everyone!
A patient of Dr. Mahoney
Dr. Mahoney spelled it out completely. I knew what to expect. The whole process was very smooth, and I was very impressed with how informed they made me feel and impressed with everyone's professional attitudes all through the process.
Linda Beirise
A thumb joint arthroplasty patient who loves to quilt –– from Groveland, IL.
I couldn't sleep at night, I didn't have energy for my kids and I was tired at work. My family doctor referred me to Dr. Mahoney. He was nice, knowledgable and made me feel at ease. After treatment, I feel amazing, like I never had issues.
Jessica Isbell
A carpal tunnel patient who loves to cook –– from Farmington, IL.
Call Us to Set Up an Appointment
Peoria (309) 691-1400
Pekin (309) 353-4159
Get Hours & Location Info
Midwest Ortho First Walk-In Clinic Hours: M-F 9am-6pm | Sat-Sun 9am-noon